usecure recognised by Capterra as one of the Top Policy Management Tools
Usecure is elated to earn a spot among the top three Policy Management solutions in Capterra's Germany 2023 HR Trend Report!
This recognition goes a long way in proving the efficiency and effectiveness of our Policy Management Software – uPolicy. Our product enables companies to efficiently create, manage, review and communicate their internal policies and procedures.
usecure's performance review on Capterra
Capterra — the world's leading technology review platform that helps organisations find the best software and services solutions — rates products from the Germany 2023 HR Trend Report based on data sourced from product reviews shared by Capterra users, as well as data aggregated from online sources and social networks.
We consistently got top marks
Here's how usecure did in Capterra's Germany 2023 HR Trend Report. usecure has scored high with an impressive average rating of 4.7 out of 5. We have been highly rated in all of the four given categories: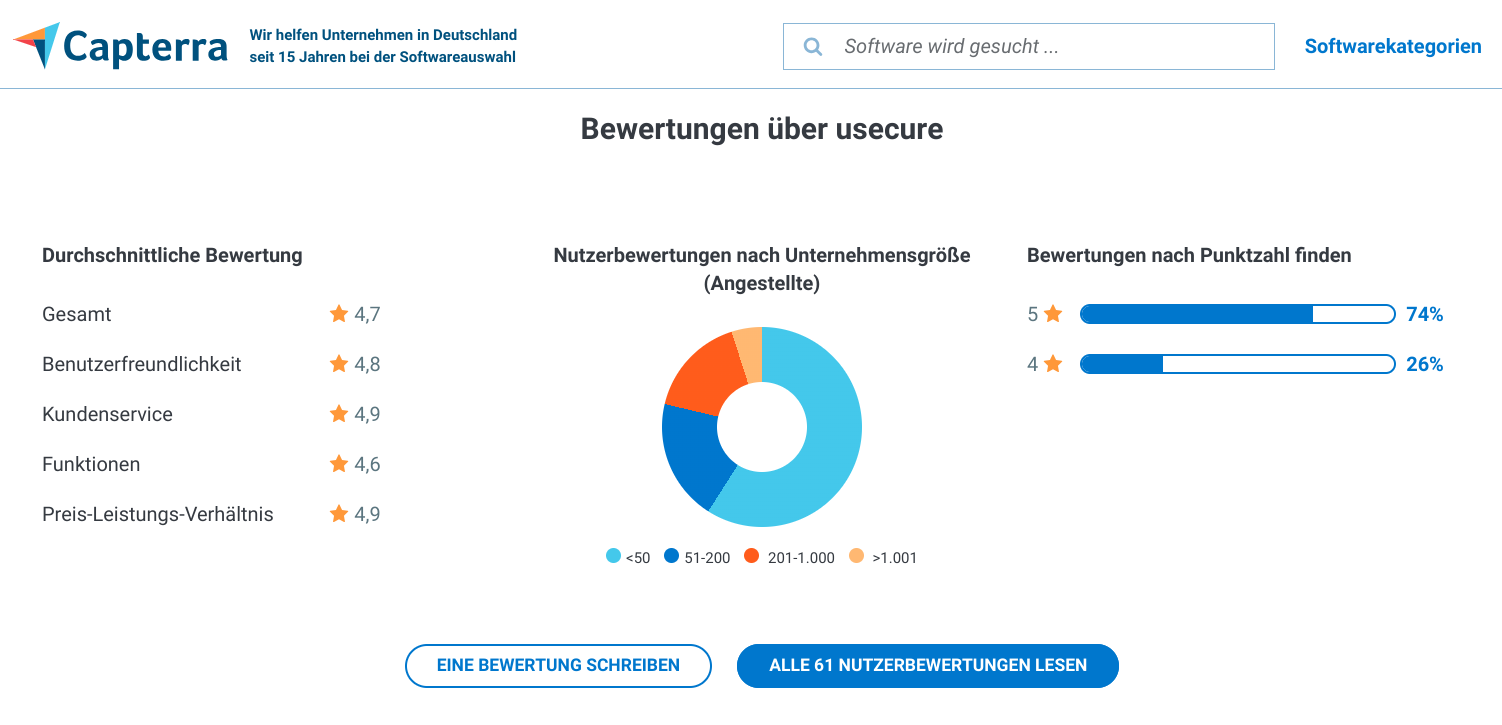 Features: 4.6/5
User-friendliness: 4.8/5
Customer service: 4.9/5
Price-performance ratio 4.9/5
We made everything a breeze for you!
Features

With uPolicy, handling policies is a piece of cake! uPolicy lets you keep and update all your documents in one handy, centralized spot, so it's a breeze to locate, share, and tweak any policies you have.

User-friendliness

We're all about keeping things simple at usecure, and we do our utmost to ensure the ease-of-use of our products. Trust us, we get a kick out of flipping the script and tossing out anything complicated or unnecessary. Why? Because we know that straightforward and user-friendly is the way to go, and we're all in for making your life easier!

Customer service

We've got real people ready to help you out in less than three minutes. Customers are at the centre of everything we do. You're the VIPs in our business! We're always driven to help you.
Users are fond of us!

Price-performance ratio

With a 4.9 out of 5 rating for price-performance ratio, it's clear that we're hitting the right notes. We're thrilled to provide excellent value for the market, and it seems our clients are equally pleased. A win-win for everyone!
Hear it from our users!
Take a look at some of the latest reviews for usecure, as gathered by Capterra.
Thanks a million to our users!
After our little moment in the spotlight, it's time to give a heartfelt shout-out to our incredible customers and partners. Your invaluable feedback on various review platforms like Capterra, G2, GetApp and Software Advice has been a goldmine of insights for us. It's really shaping our roadmap and boosting our support services.
Discover why everyone's talking about us!
It's not just the user-friendly interface and exceptional support that people love about usecure. What really sets us apart is how we revolutionise workforce security culture—without zapping your time, budget, or team productivity.
Curious? Dive into uPolicy to find out how usecure can help you get a handle on policy management. Or watch a demo with easy-to-grasp information that shows you exactly what we're all about. You can also explore our blog for in-depth insights on effectively navigating global regulations and standards with usecure.