Boost your MSP sales pipeline with the Human Risk Report (HRR) prospecting tool
As an IT service provider, you already know that training employees to combat modern cyber threats and improve their security behaviour is vital for your clients.
But what's the most effective way to cut through your competitor's 'here are the latest phishing statistics' noise and actually encourage your clients to roll out a cyber awareness training solution?
In this blog, we'll look at how IT service providers are using usecure's Human Risk Report (HRR) - the sales prospecting tool for MSPs - to:
Generate more sales opportunities
Differentiate their IT service offering
Win new clients with a faster sales cycle
Unlock a gateway for selling human risk management
We'll run you through how it works, why it works, and how to get started.
Why aren't your clients taking
human cyber risk seriously?
There are a few common reasons as to why businesses, especially SMBs, might not be taking their human risk as seriously as they should, like:
Thinking their business is too small to be a target
Not understanding how at-risk their business already is
Not knowing how to reduce risk or where to start
It's easy to think that throwing the latest breach statistics at clients will help them understand why human risk management measures like security awareness training and simulated phishing are so important.
But the truth is, most of your clients still won't really care enough to act.
Part of the reason for that is that it's rare for SMB data breaches to make headlines, which makes it difficult for smaller businesses to relate to these stories and fuels the misconception that it won't happen to them.
Encourage clients to act now with actionable Human Risk Reports
There's a good rule of thumb to stick to when selling your managed services - don't just market to your customers, educate them.
The best way of educating your clients about human cyber risk is by demonstrating how at-risk their business is, and that's exactly what Human Risk Report was built for.
What is Human Risk Report (HRR)?
Human Risk Report (HRR) is the sales prospecting tool for MSPs that calculates the human cyber risk of current and prospective clients in just a few steps, and then generates an actionable one-page report, outlining:
Human vulnerability to phishing attacks
Stolen credentials on the dark web
The businesses' overall Human Risk Score
How quickly an attacker could breach the business
What actions are needed to tackle their human risk
How does HRR help MSPs sell better?
HRR helps MSPs stand out from the crowd with a unique and free service offering that can be embedded straight onto your website.
Using the HRR Sign-Up widget, you're able to convert leads on your website and start generating free one-page reports that initiate more sales-ready conversations with prospects.
Rather than burning time explaining why cyber awareness is important, HRR accelerates your sales cycle by demonstrating your prospect's human risk in a digestible way, then outlines how your MSP can reduce their risk — helping you drive long-term service value and recurring MRR without draining resources.
Every report comes with a personalised summary and remediation section that outlines how your client can reduce their unique risk.
How does HRR work?
Building your prospect's Human Risk Report is incredibly easy, with hand-held steps and automation eliminating the need for admin training.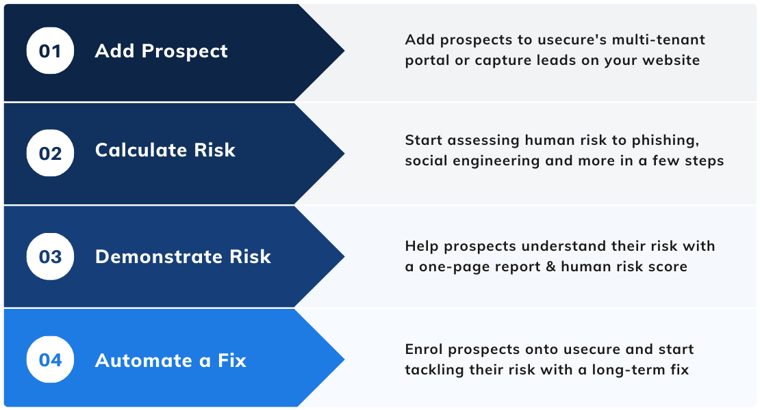 Step One - Add a prospect
You can either add your prospect through usecure's multi-tenant MSP portal or by having your prospect convert through the HRR Sign-Up Widget on your website. Either way is quick and easy.
Step Two - Launch HRR
HRR will

scan your prospect's domains

for dangerous lookalikes.
It will then

scan the dark web

for stolen user credentials that could be leveraged to launch a social engineering or spear-phishing attack.
Then, a

simulated phishing campaign

is launched to assess user vulnerability to sophisticated attacks, with readily-made templates.
Step Three - Demonstrate risk
HRR will then compile the results into a one-page white-label risk report, outlining the organisation's Human Risk Score, Time-to-Breach and a Summary & Remediation section that explains their next steps.
Start prospecting new clients today
Grab a free lifetime not-for-resale (NFR) license and start using usecure (including Human Risk Report) for free.