How to make a good security awareness training policy? (with free template)
Security awareness training is an essential part of any company's toolkit in protecting them from the latest and most damaging cyber security threats. However, security awareness training is only effective when instituted thoroughly with an appropriate security awareness training policy.
In this article, we'll go through everything you need to know to build a successful security awareness training policy for your organisation. At the end, you will also find a pre-built template that you can base your own policy on.
What is a security awareness training policy?
A security awareness training policy sets out what security awareness training employees are expected to partake in, what form the training will take and when it will be carried out, and what the penalties are for non-participation.
Instituting a security awareness policy will both help make your employees' obligations clear to them, as well as help your company comply with data protection regulations that require you to ensure all employees are enrolled in security training and are aware of their responsibilities in helping to protect your company's devices, network and data.
What should you include in your security awareness training policy?
A security awareness training policy will normally consist of five sections.
Overview. In this section, you will explain the background for why the policy is necessary and what it encompasses. The more end users understands how the policy helps the business and themselves, the more likely they are to comply with it.
Purpose. In the second section of the policy, it is best to clearly lay out what you hope to achieve with the policy. Mention that you hope to ensure everyone is aware of their responsibilities in helping keep your company secure, and that the best way to do that is by employees partaking in their security awareness training.
Scope. In the third section of the policy, you should cover who the policy applies to. Normally, you will want the scope to include all employees, but you may also want to consider whether you want other staff such as contractors and temporary workers to be included in the policy as well.
Policy. This is where you will write out the requirements of the policy itself. Explain how, when and where security awareness training will be carried out, and how often you expect staff members to take it. Also explain what the training will encompass, and what employees should do if they fall behind or are experiencing issues with their training programmes.
Penalties. In an ideal world, all end users would keep up with their responsibilities. However, you should be prepared for the worst. In the final section of your policy, explain how employees can expect to be warned about not following their obligations as set out in the policy, and what penalties can be enacted upon them if they keep failing to comply with their obligations.
How can you ensure the success of your security awareness training policy?
The most successful security awareness training policies are those that are as clear as possible. Before writing your policy, you should make sure you know just how often you want end users to take part in training, how they will access their training and what measures you will take if users fall behind. You should also account for as many possible situations as possible, such as when an employee is on extended leave and comes back to have a large number of outstanding training courses.
What does a good security awareness training policy look like? (template download)
Want a base to start building your security awareness training policy from? Below, we've included a template that you can freely customise and use within your own business.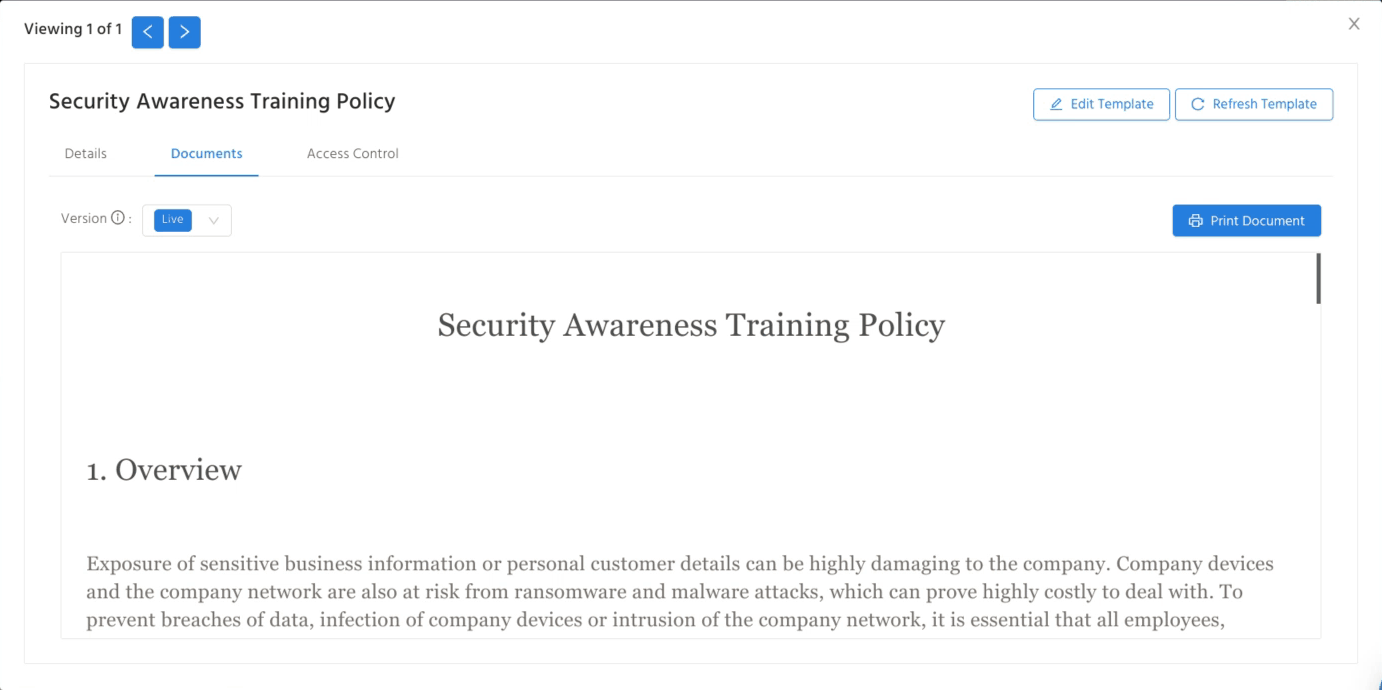 Security awareness training policy template [DOCX]
Train your users across all core information security awareness areas with minimal setup and admin
usecure's Auto Enrol allows you to automatically enrol your users into a complete information security training programme. With just a few clicks, you can send out a gap analysis questionnaire to all end users that analyses their weak points in security knowledge, and then automatically builds individualised training programmes for each user that addresses their most vulnerable areas first.
usecure is designed to be your one-stop solution for managing Human Risk in your organisation. On the usecure platform, you will also have access to uPolicy - a simplified policy management solution that makes sending out policies, updating policies, and keeping track of signatures effortless.