usecure has joined The Tech Tribe! Grab your Tribal Perk
If our team has learned anything in the past few years of working with managed serviced providers (MSPs), it's that community is everything.

From sharing experiences of vendors to dropping sales and marketing tips and tricks, the growth of the MSP market has been driven through peer-to-peer insights and open discussions in online communities and forums.

We're firm believers that, to be truly MSP-friendly, vendors need to be active in these spaces to provide a helping hand whenever prompted. That's why usecure is now listed in one of the most exciting, active and well-loved MSP communities out there - The Tech Tribe 🎉
How do MSPs benefit from usecure joining the Tribe?
The Tech Tribe helps MSPs and IT service providers better run and grow their businesses through their online portal that includes a thriving community, all of the sales and marketing resources you could wish for, and an exclusive collection of vendor perks that save you time and money.

If you're an MSP or IT service provider and are a member of The Tech Tribe, you'll now have access to usecure's exclusive 'Tribal Perk'.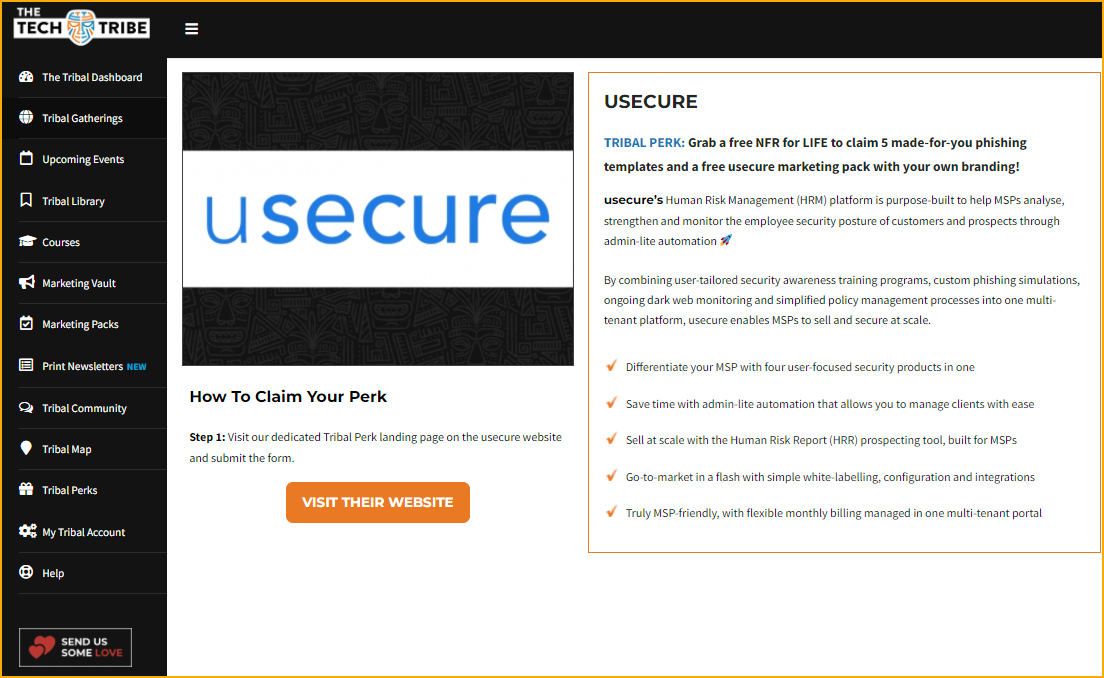 This Tribal Perk includes:

Not-for-resale (NFR) license to use usecure internally for free, for life
Get five custom made-for-you phishing templates
A free usecure got-to-market kit with your own branding
Access to usecure's exclusive BETA program
How to claim your usecure Tribal Perk
You'll need to be a member of The Tech Tribe and not currently be a usecure partner/not have an NFR account to access our Perk. If you are a member, simply login to their portal and go to the 'Tribal Perks' option on the left-hand navigation menu, then search for usecure. You'll find the rest of the steps in there.

If you're not a member of The Tech Tribe yet, then we seriously recommend you check them out - the peer insights, resources and perks are amazing tools for growth.