Product — The usecure updates you might have missed in 2021 [Yearly Roundup]
In this yearly roundup, you'll learn about some of the standout features and updates that were added to the usecure platform in 2021.
Having made it our mission to cement usecure as the number one human risk management (HRM) solution for MSPs, we outlined a new set of values that revolved around Product, Partner and People, in order to make sure our partners have the best possible experience from day one.
To do that, we're constantly taking partner feedback on board in order to build a product roadmap that continues to help MSPs protect clients against evolving threats whilst driving service value through a low-touch solution.
Here is how usecure enhanced its 'Product' experience in 2021.
Sell better with Human Risk Report (HRR)
One of the key factors that can hinder an MSP's growth and ability to sell its services is a lack of in-house commercial resources. With often a small team of technical experts, there just isn't the time, budget or expertise to execute an effective sales and marketing plan alongside the day to day workload.

We wanted to help solve that problem by making it easier for MSPs to demonstrate usecure's value to decision-makers, so we built a powerful prospecting tool that:
makes usecure one of the easiest services to sell within an MSP's armoury
helps MSPs initiate more sales-ready conversations with new prospects
opens up a gateway for service providers to sell other security products
With the Human Risk Report (HRR), IT service providers are able to easily calculate the employee security posture of any business in a few simple steps, and then present a free one-page report that demonstrates the urgent need for usecure's Human Risk Management (HRM) solution.
Understand human risk with next-level reporting
The human element of security has evolved in recent years, with endless risks around targeted attacks like phishing, as well as overlooked threats like weak policy processes and breached company data on the dark web.

With those evolved threats, businesses need to understand their overall human risk in real-time, not just how well their users scored in a training quiz. usecure's new reporting dashboard allows MSPs and their clients to truly gauge their human security posture at any one time, including:
Smarter company-wide risk scoring that factors in multiple data points
Deep-dive into user-level and department-level risk analytics
A dedicated reporting dashboard for user training performance (uLearn)
Plus, enhanced uPhish, uBreach and uPolicy reporting
Support your multilingual clients with localised training content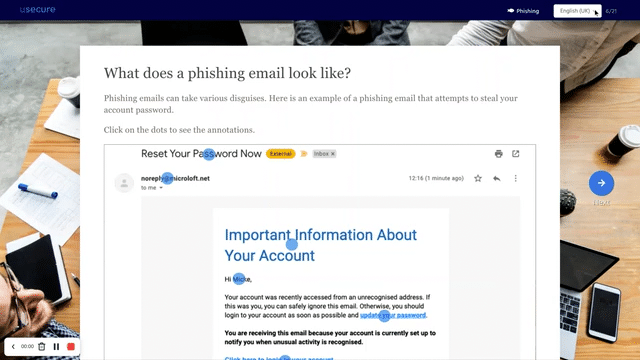 Having launched with a number of distribution partners across the globe in the last 18 months — including the US, ANZ, Europe and Asia — we knew it was important to offer the same amazing product to MSPs no matter what their native tongue.
And, with many MSPs boasting customers with offices scattered around the globe, it's also important that employees are given the option of being trained in their preferred language.
That's why, in 2021, usecure doubled its account management team with English, French, German, Spanish, Portuguese, Finnish, Swedish and Norwegian speakers, to give MSPs and their customers more choice of language.
Train users in their preferred language through localised security awareness training courses, translated and quality checked by humans
Deploy phishing simulations in multiple languages through a readily-made library of email and landing page templates
Change the language of your usecure admin portal to your MSP's preferred language
Get human and self-service support in multiple languages through usecure's on-demand help centre and in-app live chat
Better control, more white-labelling and easier configuration
With clients of all different sizes, locations, industries and general requirements, we know that configuration, customisation and a wide variety of training content are vital for MSPs.
Here's what usecure released in 2021 to make admin even easier...
More control of AutoEnrol — AutoEnrol creates user-tailored training programs for end-users that strengthen their awareness of core security topics. But, sometimes, customers will prefer to include and exclude certain courses so that employees only receive topics that are deemed to be relevant. It's now possible to automate training in any subject area with a "compulsory course" option, as well as making it possible to exclude unwanted courses.
More control of AutoPhish —

AutoPhish enables you to automate periodic phishing simulations that assess user vulnerability over time against a range of attack techniques. As with AutoEnrol, there may be certain phishing templates you want to include or exclude, which you are now able to do in minutes through simple template filtering.
More configuration options — You can now choose the default sender name of any email sent from the usecure platform to your customers, as well as customise sender names, subject lines, prefixes and the appearance of all emails.

You also have more choice of when, and which, reminder emails are sent to end-users and admins. With this update, you can now adjust settings for each type of platform email individually on the product-specific email settings pages.
Improved 'allow-listing' for domains — There is also a new method to easily 'allow-list' domains and IP addresses for phishing simulations through Microsoft's Advanced Delivery, which improves deliverability.
Localised courses, new topics and more video-based content
We're always working on new training content to help users combat modern and trending cyber threats, and 2021 was no different. Here are some highlights:
Localised courses — uLearn courses now come in different languages which end-users can choose from based on their preference.
More readily-made phishing templates — Testing staff vulnerability to new and trending phishing attacks is vital for identifying who would be at-risk when a real attack hits. That's why we've added hundreds more templates to the uPhish library, including templates in other languages and a new filtering option for faster searching.
More video courses — Video-based eLearning has been proven to improve user engagement and knowledge retention in comparison to text-based courses. That's why usecure has been releasing new video courses every single month and, as we head into 2022, are working on more video courses than ever before.
More compliance-based courses — Training end-users on compliance standards is vital for achieving the increasingly strict requirements. You'll now find more compliance courses included in your library, including GDPR, POPIA and NCSC-focused topics.
Help staff stay secure when WFH — The new normal of working from home has resulted in more cyber threats for businesses. We've launched courses to help reduce that risk, including "Home Network Security Awareness" and "Terry's Conference Call Calamity".
Not a usecure partner yet?
Learn how MSPs are enhancing their service value and growing long-term recurring revenue with usecure's Human Risk Management (HRM) solution.

Read Next: